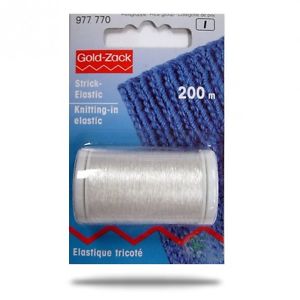 Description:

SELECT OPTION FOR LENGTH YOU NEED.
Constructing quality gimmicks demands quality tools. The Murphy's Elastic Utility Thread is a tough, durable, clear elastic thread that can handle almost any application. Each spool has transparent, elastic thread. The thread has a high-tension strength, with a low-gloss finish that will keep your thread hidden when in use. No stripping required so you can start using it out of the box. If you are repairing a card gimmick or inventing a new trick EUT is a must have for your tool box.
3 Meters = Ideal for making 6-8 card gimmicks
20 Meters = ideal for making approx 30-40 card gimmicks
200 Meters = ideal only if your are making many gimmicks , useally for selling futher.
If you are a normal magician you should buy 6 or 20 Meters.
If you are new to magic start with 3 Meters.
ELASTIC UTILITY THREAD-JASSHER MAGIC SHOP
Jassher's Magic OfferGet 10% cashback.
---
Available Options
Availability: In Stock
Viewed: 6378 Times
Safe and Secure Payments.100% Authentic products.
Related Products